In-Country Value Creation
D&B has significant experience & expertise, working with Government bodies to drive 'In-Country value creation' (localization).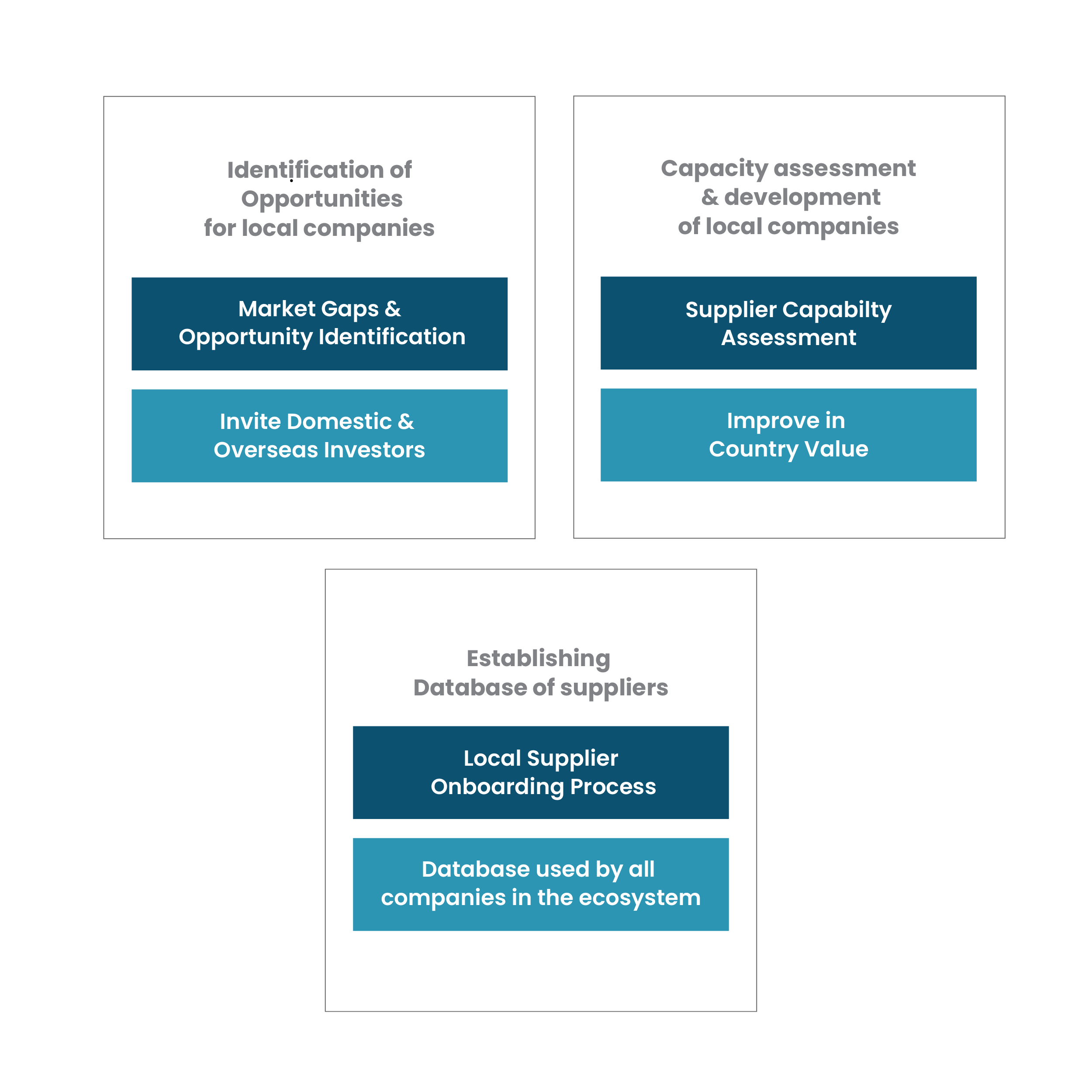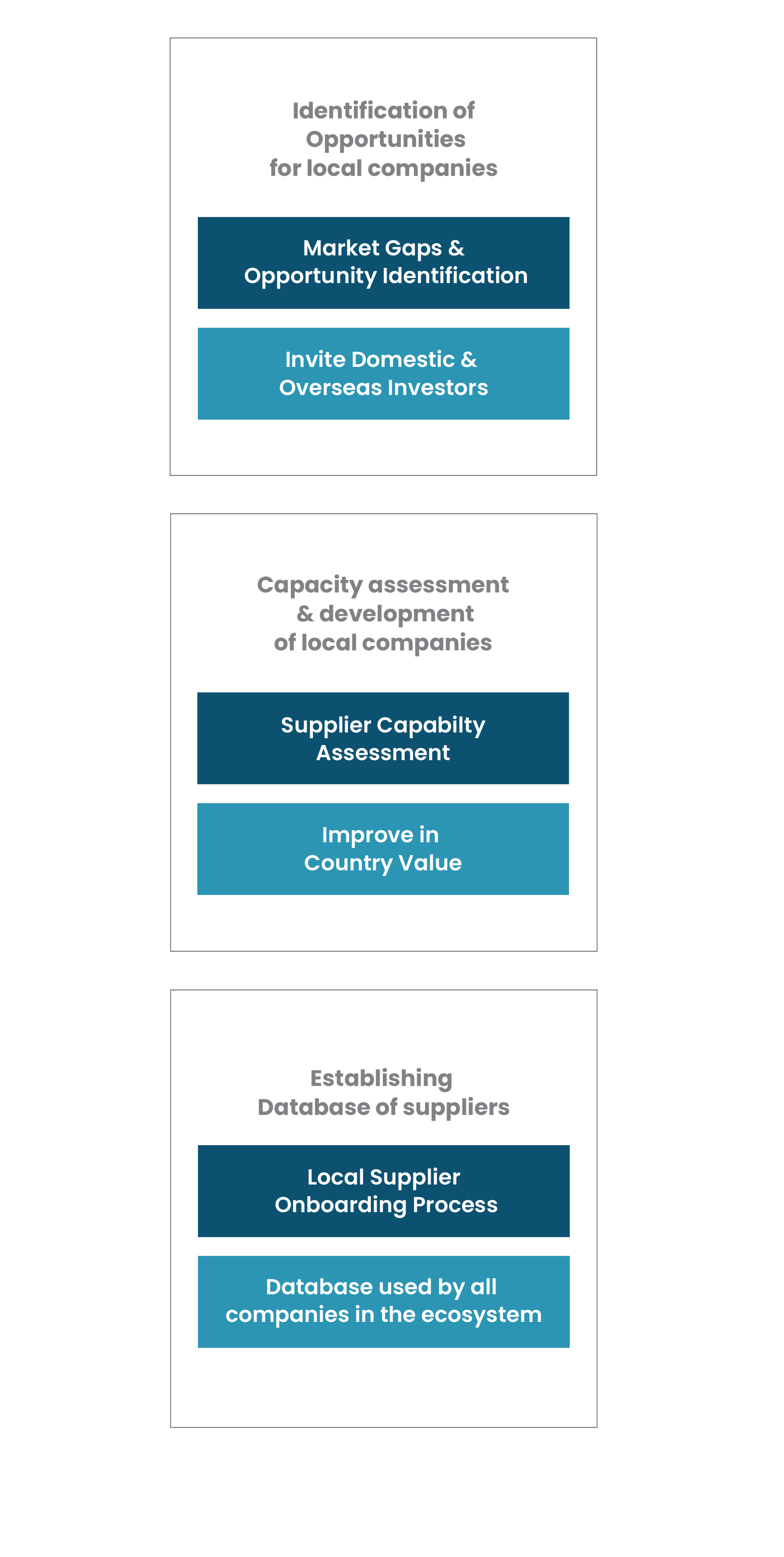 Our services span identification of local investment opportunities, capacity assessment and development of local suppliers, as well as managing the supplier capability assessment and onboarding processes.
In order for local & overseas companies to tap into local market opportunities, knowledge of local market data is key. D&B studies cover multiple aspects such as:
Industry Overview, Trends, Growth areas, key challenges & risks, latest news
Peer Analysis and their brief profiles
Market size & other information for specific product/ service, or product category
Understand demand from government entities/ large companies during current year, and estimate for next 2-3 years
Demand Supply Gap, and thus Key Gaps and Opportunities in the market for the specific product/ service as well as complementary products and services
Pre-feasibility study for specific opportunities identified
These studies help the investors to understand demand, growth, market trends, key risks, etc., and thus plan local investments.
D&B has executed several projects entailing Sector and Industry research to drive localization. We have trained practitioners as well as industry experts who execute these projects. The projects typically entail conducting detailed secondary research, and primary research with industry players as well as stakeholders in the government and private sectors. We work extensively with technical sector experts, and ensure we cover all relevant parts of the industry value chain.
Value Chain Study for identify local investment opportunities in Abu Dhabi 
Project Objective 
Value Chain Analysis across multiple sectors including Transportation & Logistics, Construction, Information Technology, Petrochemicals, Metals Manufacturing, Food & Beverage Processing and Tourism 

Study the current and future status of the Abu Dhabi economy, with reference to 12 major (primary) industries. 
D&B Methodology 
Deep dive analysis of 12 primary sectors – using value chain analysis and other proprietary assessment tools & analytical models well tested in the region. 

Profile the sub-sectors (i.e. value chains) with gaps, and high potential for local investment opportunities. 

Road-map and high-level implementation plan for the government entities to play a pivotal developmental role. 

300+ primary research interviews conducted in Abu Dhabi 
Market Gap Identification Study, Bahrain

 
Project Objective

 
Bahrain Market Gap Study across 12 major sectors (including petrochemicals, metals, transportation & logistics, machinery, etc.)

 

Understand market gaps, sector development priorities and challenges

 

Identify and prioritize sub-sectors and identify policy intervention areas for government.

 

Launch an investor forum to discuss opportunities and share project profiles with regional investors

 
D&B Methodology

 
Deployment of taxonomy analysis and a value chain approach.

 

Development of 'Market Attractiveness' and 'Bahraini Readiness' Framework.

 

Total industry leader interviews: 350+

 
Manufacturing Sector Opportunity Identification in Oman

 
Project Objective

 
Understand Manufacturing Value Chain and Identify Gaps.

 

Evaluate Gaps in detail to identify and shortlist Investment opportunities in the manufacturing sector in Oman

 

Identify and prioritize product opportunities (non-oil) that can be manufactured in Oman, based on prerogatives of the 'In-Country Value' agenda of Oman.

 
D&B Methodology

 
Detailed taxonomy analysis and sector/sub-sector filtration.

 

Investment profiles for top 10 key opportunities

 
Local Market Capability and Capacity Development in Oman

 
Project Objective

 
Evaluate Omani manufacturers' and contractors' capacities and capabilities for Commodities and Services required by our client to maximize its In-Country Value (ICV). 

 

Identification of local manpower opportunities (Omanization) and opportunities for supplier development

. 

 
D&B Methodology

 
D&B engaged with the ICV team members, as well as technical experts, and assessed the SMEs as per our client's technical requirements

 

Understand and document opportunities to grow the SME sector

 

Understand specific challenges faced by SMEs during the bidding process, personnel recruitment, materials sourcing, etc. 

 

Impact analysis comparing the current spends retained in country versus potential as per D&B recommendations

 

Cumulative development needs of the SME sector D&B also recommended specific projects, and scope areas to be ring-fenced for the SME sector

 
Supplier Assessment System implementation in Nigeria

 
Project Objective

 
Our client is an electronic one-stop center that improves on value procurement in the Oil & Gas sector and centralize world-class contracting processes in Nigeria. The stakeholders in this venture are the global leaders in Oil & Gas.

 

The project objective was to overcome the challenge of limited information on local suppliers as well as absence of a central database management system for the O&G sector in Nigeria. 

 
D&B Methodology

 
The D&B system was built after extensive consultations with each functional user group in the organization. 

 

The global experience of Dun & Bradstreet was immensely useful to design and develop a comprehensive Online Vendor Management System

 

In the last eight years, apart from the functional users, the suppliers have also appreciated and lauded the system's ease-of-use from a customer experience point of view.